Is it another book review that you're seeing? *sigh* Yes it is ;p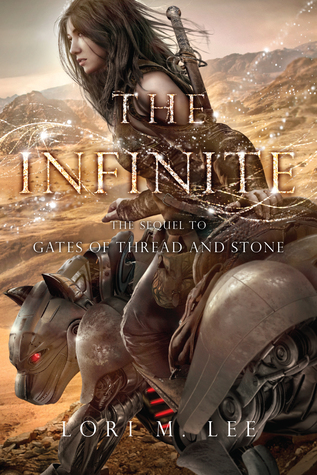 So a week ago the author contacted me via Goodreads and asked me if I wanted to review the sequel, which happens to be this gorgeous right here. After making sure this was real, I readily accepted (all the while marvelling over the fact that I was no longer obliged to wait until March to read this beauty) and after a few messages and a newly created netgalley account, I sent the book to my kindle app and started to read it. So thank you very much, Lori M. Lee, for providing me with such a marvellous opportunity to review your book. Now that the story is over, here's all you need to know about her book. ______________________________________________ Amazon | Book Depository | Barnes and Nobles
To be released on the 10 March
Synopsis (from goodreads) The walls of Ninurta keep its citizens safe. Kai always believed the only danger to the city came from within. Now, with a rebel force threatening the fragile government, the walls have become more of a prison than ever. To make matters worse, as Avan explores his new identity as an Infinite, Kai struggles to remind him what it means to be human. And she fears her brother, Reev, is involved with the rebels. With the two people she cares about most on opposite sides of a brewing war, Kai will do whatever it takes to bring peace. But she's lost her power to manipulate the threads of time, and she learns that a civil war might be the beginning of something far worse that will crumble not only Ninurta's walls but also the entire city. In this thrilling sequel to Gates of Thread and Stone, Kai must decide how much of her humanity she's willing to lose to protect the only family she's ever known.
__________________________________
My review: Rating: 
.5 /5 stars
Only one word: WOW.
Honestly, I did not know what I was waiting for with this book. But it blew me away. Oh yeah it did. Yes, I've read it from the synopsis, but when reading the actual thing, I was like "drek, she really lost her powers?! What the hell?". Sure, it was a real shocker because we haven't really witness her powers back in "Gates of Thread and Stone" so I was really sad she couldn't do much (meaning it terms of powers and magic).
And now there's Avan. Sure, the ending of GOTAS left me in such a mess drowning in a pool of feels that I couldn't even write a proper review (and I still need to!). But now, Avan is an Infinite; he's Conquest, and… he does not remember anything. I was soooo heartbroken, because he and Kai were my OTP, and then… It was so sad (sad isn't even strong enough!) to see Kai trying to get the old Avan back, when really, throughout the book, Avan himself is not really sure about what he wants.
Then there's Kai. I freaking loved her more in this one! I found her to be more mature and independent, with nice quick thinking skills. Besides everything that is happening to her, she stands high and strong and I love that about her! You go girl!
Mason was a real surprise in "The Infinite". Let's just say that he entered in my book-boyfriend list (I'm vague because I don't want to spoil anything :p)
Now about the plot. It was so freaking intriguing! I loved the prospect of having new worlds (more like new countries but anyway) and I found myself comparing Ninurta and Lanathrill; describing Ninurta as more "steampunk" while Lanathrill seemed to be more "medieval". But nevertheless, I loved the mystery, the intrigue (I knew there was something fishy, my guts were screaming it!) surrounding this world and I was so amazed at the plot twists that they took my breath away (I'm also happy she didn't kill any of my favourite characters *squeals happily*) To make it short, the world construction was so damn wonderful and I love how there seems to be a fine note of exoticism in the characters' names. As a whole, I really enjoyed the sequel and the ending left me bawling. Now I can't wait for the next book to be released… I NEED IT NOW! *cries*
Mel