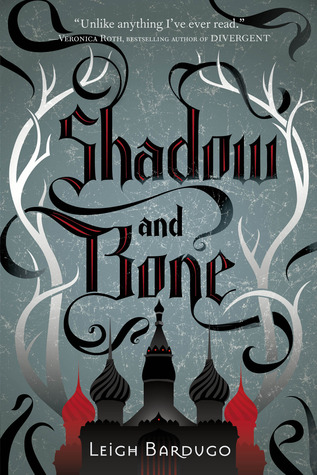 Synopsis: Surrounded by enemies, the once-great nation of Ravka has been torn in two by the Shadow Fold, a swath of near impenetrable darkness crawling with monsters who feast on human flesh. Now its fate may rest on the shoulders of one lonely refugee.
Alina Starkov has never been good at anything. But when her regiment is attacked on the Fold and her best friend is brutally injured, Alina reveals a dormant power that saves his life—a power that could be the key to setting her war-ravaged country free. Wrenched from everything she knows, Alina is whisked away to the royal court to be trained as a member of the Grisha, the magical elite led by the mysterious Darkling.
Yet nothing in this lavish world is what it seems. With darkness looming and an entire kingdom depending on her untamed power, Alina will have to confront the secrets of the Grisha . . . and the secrets of her heart.
Shadow and Bone is the first installment in Leigh Bardugo's Grisha Trilogy.
---
Published: 5 June 2012
Number of pages: 368 pages
Edition read and reviewed: ebook
Read: 23-30 March
Rating: at the end of the review 😉
---
Review:
I thought this book would get me out of my reading slump. I think it kind of did, but not for the reasons I had thought of.
Let's make it clear: I did not enjoy this book. At first I did.
I went into Shadow and Bone blank, hoping it will surprise me. The beginning was amazing. The first few chapters kept me on the edge, waiting and wanting for more, until I could quench my thirst. I found the plot very original amd the setting was quite exotic, so I thought that it was going to be good.
But after the first chapters it started to go downhill. I find it extremely boring and it was dragging on and on and on…. I couldn't stand it! At some point I wanted to DNFed it, but I kept on reading. A little after 60% the book did become a little more interesting after that plot twist so I started hoping for aome action. Again, bof. I finished it and stayed very indecisive on whether the book was okay or a total waste of time.
What I did not enjoy in this book, which is rather new to me, are the characters. Not in the sense "oooh that character is a jerk I don't like him", but more in the way they were written. I couldn't see most of them. Not to go that far, take the principal character, Alina. She's witty and funny, but otherwise I felt like she wasn't real, only fulfilling the purpose for which she is written. She was not spontaneous and authentic like I wanted her to be, like I love my favourite characters to be. She seemed to be so… fake. And that really made me lower my rating. The same thing could be said about the setting. There were places I couldn't envisioned, like The Fold, and that was really upsetting.
In my opinion Marie and Nadia, and even Zoya were the truest characters I found in the book. I know people who would act exactly like them in real them and they felt authentic.
I couldn't "place" Genya. Sure, she was very funny and cool but I couldn't understand her role in the whole of the story and the reasons behind her actions. Neither could I understand The Darkling anyway. He did not feel very real to me.
Something I usually love in novels but which I hated in here was the romance, more exactly the "love-triangle". Enter Mal. He's funny, cool, witty and awesome. He's one of the rare characters I enjoyed reading about, so imagine my surprise (and great displeasure) when discovering that he was only mentioned after the beginning, throughout half of the book! Whuuuuuuttttttt??? I nearly died 😱:'(😭😭
And the romance Alina-Darkling? I HATED IT! ALL OF IT!! It was so wrong and absurd, ughhhh! I could've puked!
On the whole the novel was more or less okay, but I'm not in a hurry to read the sequel. Nor to buy a hardcopy (but the covers are really prettyyyyyy 😍). I would the book between 😻😻.5 and 😻😻😻.
What about you? Have you read the book, or enjoyed it? Comment your thoughts down below!
💋💖,
Mel