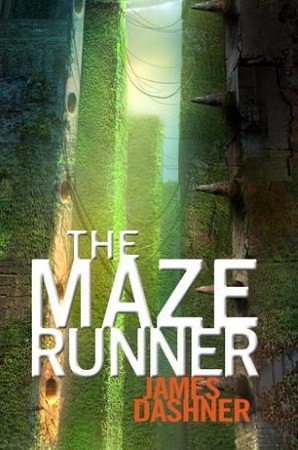 Synopsis: If you ain't scared, you ain't human.
When Thomas wakes up in the lift, the only thing he can remember is his name. He's surrounded by strangers—boys whose memories are also gone.
Nice to meet ya, shank. Welcome to the Glade.
Outside the towering stone walls that surround the Glade is a limitless, ever-changing maze. It's the only way out—and no one's ever made it through alive.
Everything is going to change.
Then a girl arrives. The first girl ever. And the message she delivers is terrifying.
Remember. Survive. Run.
---
Review:
[this review was written last year on goodreads, so it may be short. Sorry about it
]
Klunk's another word for poo. Poo makes a klunk sound when it falls in our pee pots. Point noted.
Honestly, I didn't expect this book to be so good, because it kind of started as weird: too many questions and mystery and no answer at all. I was so mad but I continued reading it anyway as I wanted answers. Trust me, after the first 100 pages – or 150/175 pages – it really becomes good. I became quickly hooked and I was so curious into knowing more about the Maze, the Grievers, and whether or not they could get out of it safely.
At a point I became obsessed with the characters (Newt is miiiine!) and the story was kind of hypnotising me: don't go to sleep, sleeping is useless… read me… read me…READ ME!!! Yep.
At the beginning though I was kind of confused by the language the Gladers were using; I had to read a sentence over and over in order to understand it. And it annoyed me. But gradually I came to understand mostly what they said and I was like victory!
If ever you are reading this now, don't get discouraged and continue, because the best parts of it are yet to come.

Mel