For this post I decided to review more than one anime, partly because I did not feel like writing a lot about one of them, and partly because I've got a lot to talk about… So yea
I'm also thinking of doing that more often, because I feel like it's simpler and quicker for me all the while where I can fangirl about everything at once… So for me, it's a win… Hehehe 😀
Here's the first one, Ao No Exorcist, also known as Blue Exorcist
What It Is About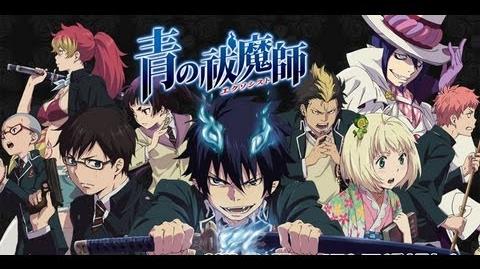 Humans live in the world of Assiah, demons in Gehenna. The  two dimensions are not meant to interfere with each other, but  demons still possess creatures in Assiah in spite of this. The  humans who can fight these demons are known as exorcists. Rin  Okumura is a boy who bears the curse of being Satan's  illegitimate son. His foster father sacrificed himself to save him  from demons. To avenge his foster father's death as well as to  prove himself, Rin decides to follow the path of an exorcist.
---
My Thoughts About It
No. of episodes: 25
I will not say that this anime was unlike anything I've ever watched, because the basic idea is more or like the same in some of the other animes I've watched; but I'll also not say that I did not enjoy it, because I did. Sure, the main plot seems dark but it is delivered with such a dose of comedy that you can easily forget what the main plot is (in a good way 🙂 )
The story follows Rin, who discovers that he is the son of Satan. Rin is an adorable character. He is funny, headstrong and most of the time acts like an idiot, but he is the sort of main character that I like. He is not perfect; he is flawed and knows it, and tries his best to overcome his weaknesses in order to be able to fulfill his goals. I loved watching his character development in the span of 25 episodes and how his relationships with his friends evolved from simple acquaintance to something so fun to watch 😀 I also loved his unique relationship with his brother Yukio, and their dynamics, and how they are so much different from each other. I mean, come on, they are twins, and they don't even look alike, but they are also so different from each other that you may believe that they are not of the same age!
The world was extremely fascinating as well. I've yet to read books about angels, demons AND exorcism all at once so watching (and reading a bit as well) how the author made it happen was very interesting. This aspect also made me want to know more about it and thus made me watch more episodes (until I watched all of them and cried because there wasn't anything else after the 25th episode) and I'm entirely happy about it. This anime truly left me speechless and anxious to know more (but don't worry, hehe… that's when I'll read it *kekeke*)
If you love a good anime with the right dose of action and comedy, and if you don't mind a little bit of blood (I promise, it's not as bloody as Attack on Titan, on the heavy bloody meter I give it a 3.5 on 10 when AoT has 8. I have yet to watch Elfen Lied though *shivers*) and angels and demons and possessed people then I recommend you to watch it.
Rating: 
---
---
Now onto the next anime I just watched and totally adored! The Seven Deadly Sins, in japanese, Nanatsu No Taizan.
 What It Is About
The Seven Deadly Sins were once an active group of knights in the region of  Britannia, who disbanded after they supposedly plotted to overthrow the Liones Kingdom. Their supposed defeat came at the hands of the Holy Knights, but rumors continued to persist that they were still alive. Ten years later, the Holy Knights staged a coup d'état and captured the king, becoming the new, tyrannical rulers of the kingdom. The third princess, Elizabeth, then starts out on a journey to find the Seven Deadly Sins and enlist their help in taking back the kingdom.
---
My Thoughts About It
Number of episodes: 24
So… so… so…. How can I start this? I discovered this anime while surfing on youtube (I remember searching up "anime op main characters" and this popped up, "Top 5 monster inside main lead characters". So I checked it out. And I saw The Seven Deadly Sins. So I watched it. And now I want more.
I FREAKING LOVED IT!!!!
I didn't know what I was waiting for, but this anime blew me away. It has everything: action, humour, suspense, mystery… Everything in one single anime of 24 episodes. I admit that I was annoyed with the two main characters at first, Meliodas and Elizabeth, because one's a pervert and the other one doesn't realise it (and finds it normal *facepalm*) But then the story enfolds into something so interesting that you can't help but watch it. As I said, this anime has everything and it'll surprise everytime! I seriously don't regret the hours spent watching this anime 🙂
Okay so I feel that if I continue I'll get caught up in my fangirling so I'll keep it brief and not-spoilery: Go. Watch. It. You'll thank me later. Not only is the concept interesting, but it's so well-written with its dose of twists and turns that you won't see anything coming up until it comes that is. Okay, so I thought that the actual seven deadly sins were more entities but they aren't, nevertheless I like how they were presented and how they were described as normal but badass people. I feel that everything about it was perfect.
Also, check out the original soundtracks for the two animes, both composed by the genius Hiroyuki Sawano. Even if you are not going to watch any of them, then at least listen to the soundtracks. They are so amazing ❤
Rating: 
---
---
Other animes I started watching but haven't finished it
Zetsuen no Tempest: started watching the first two episodes, but did not find it engaging. Will not continue.
Blood Lad: Watched the first two episodes and enjoyed them, but that's it. The story seems quite interesting but I find the main character… weird. Still don't know whether to continue or not (but, hey, it's only 10 episodes, so maybe 😉 )
Zettai Karen Children: went into it without knowing it was a cute sort of anime when I wanted a more serious one. Watched the first three episodes, and found out it was okay, but really dislike one of the main characters (forgot her name, but it's the one who doesn't think before acting and who punches everyone) Will maybe continue.
Zettai Karen Children: The Unlimited – Hyoubu Kyousuke: so this was cool. Watched the first episode and found out it was awesome! Will continue.
---
---
So I hoped that you liked this little anime mix post 🙂 I definitely enjoyed writing it and I think of doing this more often! Yay!
Love ya all