This is the one of the first arcs I've ever requested on netgalley, and it's the first approved request I've ever had! Needless to say, I'm very excited to review it here, on my blog!
Thank you Netgalley for providing me a copy in exchange of a honest review!
~~~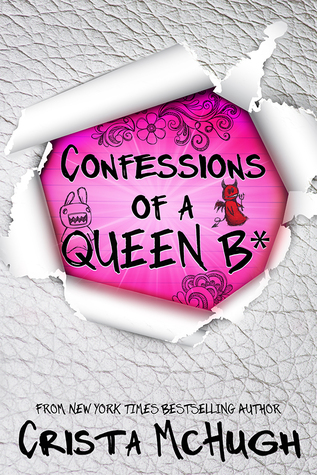 Synopsis:
Alexis Wyndham is the other type of Queen B—the Queen Bitch.
After years of being the subject of ridicule, she revels in her ability to make the in-crowd cower via the exposés on her blog, The Eastline Spy. Now that she's carved out her place in the high school hierarchy, she uses her position to help the unpopular kids walking the hallways.
Saving a freshman from bullies? Check.
Swapping insults with the head cheerleader? Check.
Falling for the star quarterback? So not a part of her plan.
But when Brett offers to help her solve the mystery of who's posting X-rated videos from the girls' locker room, she'll have to swallow her pride and learn to see past the high school stereotypes she's never questioned—until now.
*expected publication: 28 July 2015*
---
Rating: 
My Review:
The cover and the title both called out to me when I was browsing for titles to review on netgalley, so I thought, "why not?" Guess what? I'm so happy that I got to review this! I don't read a lot of contemporary, unfortunately, so for me this book was a breath of fresh air.
I loved Alexis. She is how I loved my main female characters: strong, determined, focused, and a major kickass girl. Right now, she's my heroine. She's so sassy and everything she says is always on point! ❤ Sure, she's cold and acts like a b*tch (but hey, she's the queen b*, so what did you expect) but I loved how chapters after chapters, we could get to know her better and understand the motives behind her actions. She's far from leading an easy and perfect life, but she always overcome whatever struggles in such a brave way, I can't help but admire her. She learned from her past errors, and is determined to not repeat them.
Brett was so cute. Sure, he's the personification of "The Perfect Quarterback" but, in his case too, everything is not what it seems. I love how true to himself, cute, generous and caring he is. The way he tried to see through Alexis' bitchy shell was also adorable, and I found myself falling for him… hard. He is just so adorable! ❤
The writing is amazing. I don't know how the author manages to blow me away with sassy retorts and wonderful scenes (maybe I'm referring to the janitor closet scene… maybe not… 😉 ) The moment you turn the next page you can't stop from reading because everything is calling out to you in this book and you know that, hell, gotta finish it!
This book was such a nice, fluffy and adorable read that I can't recommend enough, so here it is, GO READ IT AS SOON AS IT'S OUT! YOU NEED TO! Also I'm so happy that there's going to be a next book because, let's face it, I'm dying to know what's going to happen next!
[…
…
…
Guess you got a new ship?]
I hoped you liked my review! See you soon guys!