Thank you Netgalley for providing me a copy in exchange of a honest review!
~~~
1.Les Misérables by Victor Hugo
Synopsis:
Adapted for stage and screen, loved by millions, Victor Hugo's classic novel of love and tragedy set in 19th century France is reborn in this fantastic new manga edition!Gorgeous and expressive art brings to life the unforgettable stories of Jean Valjean, Inspector Javert, and the tragic Fantine in this epic adaptation of Les Misérables!
Adaptation: Crystal Silvermoon
English script: Stacy King
Art: SunNeko Lee
---
Rating: 
Review: So, if I actually had to write one-word reviews, here are words that I would have used: beautiful. poignant. heartbreaking. mind-changing. This book is all of that.
I've yet to read the actual classic or watch the movie adaptation, but after reading this anime adaptation, well, I can't wait to do so. And I've checked on goodreads; the original classic has about 1400 pages, so hats off to the team behind this book to make everything clear and understandable in 337 pages. You guys are amazing.
The illustrations were beyond amazing. I loved how they conveyed the story perfectly. Truly, I think that if classics were made this way, they would seem more appealing to teenagers and young adults, especially in this new generation. They may help today's generation to read more, classics included, and make our society a well-read one. So, you guys over at Udon Entertainment, keep up with the fabulous work. You are amazing.
Now about the story. I never thought I'd miss out on a classic like that. I've never been really interested to read Victor Hugo's work, and the real reason I've requested this arc is because the idea of a "manga classic" intrigued me. But after reading this masterpiece I really want to get my hands on the non-manga version of this book and devour the 1400 pages.
The story… Everything about it… It's heartbreaking.
Introducing one of the most famous characters in literature, Jean Valjean – the noble peasant imprisoned for stealing a loaf of bread. In Les Misérables Victor Hugo takes readers deep into the Parisian underworld, immerses them in a battle between good and evil, and carries them onto the barricades during the uprising of 1832.

Within his dramatic story are themes that capture the intellect and the emotions: crime and punishment, the relentless persecution of Valjean by Inspector Javert, the desperation of the prostitute Fantine, the amorality of the rogue Thénardier and the universal desire to escape the prisons of our own minds. Les Misérables gave Victor Hugo a canvas upon which he portrayed his criticism of the French political and judicial systems, but the portrait which resulted is larger than life, epic in scope – an extravagant spectacle that dazzles the senses even as it touches the heart. (synopsis from Goodreads)
It's as if my heart was thrown in all directions and squeezed and crushed and made whole again just to go through the same thing. The story was one of the most tragic I've ever read.
The story starts with Fantine, and her difficult situation:  not having a husband, she has to search for work in order to take care of her daughter Cosette, but is unable to make ends meet. Everything this mother does throughout the book is to do all she can for her daughter. Here you see pure maternal love, as Fantine is desperate to make her daughter happy, unaware that she is being ripped off by the Thenardiers, the people to whom she has entrusted the care of her beloved Cosette. While I read about her my heart couldn't stop but bleed for her, as even though she has been reduced to a mere prostitute, she hadn't stop to hope that her daughter will always be well. You, dear madam, deserve more than a thousand thumbs up. *respect*
Jean Valjean, on the other hand, was so inspiring. He always helped others despite being labelled as a good for nothing, and never let himself be discouraged. What he did for Cosette was so admirable and magnificent that you had to be none other than impressed by the extent of his generosity. Even though he was pursued restlessly by Inspector Javert, that did not stop him from making the right decisions for him as well as everyone around him.
I'd love to talk about the other characters as well but I'm afraid to spoil you somewhere inadvertently so I'll stop there. But truly, this book was amazing and even though the 1400 pages book doesn't seem appealing, then I wholly recommend this amazing version to you, and I think that I can't praise it enough!
---
---
2. Pride and Prejudice by Jane Austen
Synopsis: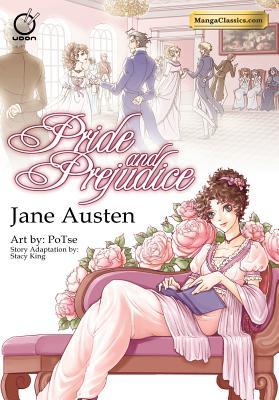 Beloved by millions the world over, Pride & Prejudice is delightfully transformed in this bold, new manga adaptation. All of the joy, heartache, and romance of Jane Austen's original, perfectly illuminated by the sumptuous art of manga-ka Po Tse, and faithfully adapted by Stacy E. King.
Editor: Stacy King
Art: Po Tse
---
Rating: 
Review: So up I've already written what makes this edition s amazing to read, so I'll just say this again once; this book made me want to pick up the original classic and go through it.
"It is a truth universally acknowledged, that a single man in possession of a good fortune must be in want of a wife."

So begins Pride and Prejudice, Jane Austen's witty comedy of manners–one of the most popular novels of all time–that features splendidly civilized sparring between the proud Mr. Darcy and the prejudiced Elizabeth Bennet as they play out their spirited courtship in a series of eighteenth-century drawing-room intrigues.
I really enjoyed the story. Sure, I'm not a big romance fan, but I'm happy that this story worked for me. I've never read anything by Jane Austen before so for me it was a big, nice discovery. I can see what the author has been trying to convey here and while some may describe it as a "typical romantic story", I'll prefer to describe it as original and heart-wrenching.
I don't know how many times I wanted to slap Mrs. Bennett. Not just slap. Sometimes I wanted to hit her on her head. Other times I wanted someone to stand up and try reasoning with her. And then there were times where I was just so tired about her that I facepalmed myself. But more importantly, she's here to show you how people thought at that time, which I find as saddening as true. And even though there are still people thinking like this, I'm glad that this era is gone.
I liked the romance. It wasn't "love-at-first-sight" but more progressive, which I found more enjoyable. This said, I also enjoyed the diverse characters and how they were portrayed, but this time I'm more looking forward to read the actual classic to write more about the characters and fill my analysis with quotes (just like I did in literature at school! *sigh* I miss school…) Nevertheless this was a very nice read and I can now easily understand how this famous piece of literature appeals to almost everyone.
I hope you liked this "special-two-in-one-review-post"!
See you soon!