Thank you Netgalley for providing me a copy in exchange of a honest review!
~~~
Synopsis: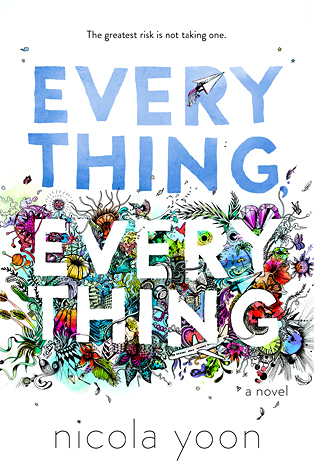 This innovative, heartfelt debut novel tells the story of a girl who's literally allergic to the outside world. When a new family moves in next door, she begins a complicated romance that challenges everything she's ever known. The narrative unfolds via vignettes, diary entries, texts, charts, lists, illustrations, and more.
My disease is as rare as it is famous. Basically, I'm allergic to the world. I don't leave my house, have not left my house in seventeen years. The only people I ever see are my mom and my nurse, Carla.
But then one day, a moving truck arrives next door. I look out my window, and I see him. He's tall, lean and wearing all black—black T-shirt, black jeans, black sneakers, and a black knit cap that covers his hair completely. He catches me looking and stares at me. I stare right back. His name is Olly.
Maybe we can't predict the future, but we can predict some things. For example, I am certainly going to fall in love with Olly. It's almost certainly going to be a disaster.
*expected publication: 1 September 2015
---
Rating: 
Review:
Do you know these types of books that you have loved enormously but when you have to write a review, you're at a loss of words? Well… That's my case here.
I've read a lot of book since the beginning of the year, but this is easily my number one favourite. And while I'll be trying to express my wonder and amazement into the next paragraphs (and I'm sure I'll fail miserably), I will recommend this book to anyone. Sure, I know this book won't be to everyone's taste  but, if you can just give it a try, I'll feel like I'd completed a mission entrusted to me.
I feel like the premise of this book was unique. Sure, recently there has been quite a number of books with sick teenagers as protagonists but I still think that this one was unique, in terms of both content and plot. And here I am going (to try) to tell you why.
Madeline Whittier, who we will call Maddy because that's her nickname, is the main character of the story that is told from her perspective. I really enjoyed her character: Maddy has lived her whole life home and doesn't know anything about the outside world besides what she has learnt from books and the internet, so she really doesn't have any real-life friends (I'm not talking about her mom or her nurse, or her internet friends) so when new neighbours come in for her it's an opportunity to be curious, especially when the family has a boy her age. She's one of the most realistic characters I've ever read, so even if I couldn't really relate to her at times it was easy to understand her; why she was sad or frustrated or determined. Honestly, she was a very interesting character and I loved how she was marvelled by everything outside, and how she discovered love.
Now Olly. Oh Olly. Why can't you be real? He's so funny and witty and amazing and intelligent and perfect and… oh god! Totally swoon worthy! But fangirling aside, Olly was such a comprehensive character that I couldn't but fall for him. From the beginning of the book (where Olly and Maddy both meet each other) until the end, Olly was there for Maddy and always tried to make her feel better; there never was an occasion where I wanted to strangle any of them (by "them" I mean Olly or Maddy), and for me, who wants to strangle even the best of characters at times, that's a big thing.
The other characters were also very well portrayed. I personally loved Carla, Maddy's nurse, as she was so nice and funny and sometimes, in my opinion, acted more motherly than Maddy's own mom. As for you, dear Maddy's mom, even before that plot twist there were times where I wanted to strangle you because I felt that you weren't comprehensive enough towards your daughter and that really pissed me off (but you understand why she does that by the end and you feel a little sorry for her but still).
I loved how this novel combines IMs and notes and charts, it made the reading so much pleasing and wonderful and the reading experience unforgettable! I also loved the author's writing style, as she was able to convey so much feels all at once that at times it hits you right in the gut and it hurts so damn much but you're like; "more please!" I really, really want to read more from you, Nicola Yoon. Oh, another thing… This wonderful book is going to be released in September… (I've put a book depository pre-order link so click it if you're interested in this title!) BUT I WANT IT NOW SO BAD UGHHH!!! I REALLY WANT TO HAVE A HARDCOPY AND EXPOSE IT ON MY SHELF AND GOD!
So… I hoped that I have successfully encouraged to give this book a try once it's out ❤
Have a good end of week!