So… With the last episode of the first season having been aired two days ago, I thought that it would be nice if I talked about one of my most recent addictions: Owari no Seraph [in english, Seraph of the End]. It is a concentration of action and vampires in a dystopian universe, and it really got me hooked from the first episode. So, without further delay, review!
What It Is About
One day, a mysterious virus appeared on Earth which killed every infected human over the age of 13. At the same time, vampires emerged from the world's dark recesses and enslaved mankind. Enter Hyakuya Yuuichirou, a young boy, who along with the rest of the children from his orphanage, are treated as livestock by the vampires. Even in captivity, Yuuichirou dreams big. He dreams of killing vampires. He dreams of killing them all.
Number of episodes: 12
Manga: ongoing
---
My Thoughts About It
So… I'm not a great know-it-all concerning animes with vampires. I remember watching a bit of Vampire Knight with my mom on TV and finding it weird, so you can say that it shaped my mind to think, nope nope nope nope NOPE. But after watching Misty Chronexia's video on Youtube, everything changed. I discovered that there were actually some animes which looked interesting, so I gave it a go. And while Strike the Blood was more funny than anything, Owari no Seraph does have a darker atmosphere and an interesting dystopian setting, which attracted me more because I'm a sucker for everything dystopian. I was not deceived. At all. And I liked that.
So basically, the anime revolves around Yuuichirou, whose biggest goal is to kill all the vampires. After some major events happening in the first episode (I'm not gonna spoil, but to make it short, shit went down), Yuu is more determined than ever to fulfill his goal. He was a nice main character. Not the best, in my opinion, but he was entertaining and fun to watch. He also goes through some character development which, thank god, happened for the best. (because at one point I was so tired at him going all I-will-all-vampires-myself-I-don't-need-friends. Seriously. You gotta admit when you're wrong. And you were.) He did not have it easy-peasy and is very determined to do what he wants to, but he's also caring over his friends so he's not totally a blockhead.
Shinoa, the main female protagonist, was amazing. And I'm not saying that only because her weapon is awesome.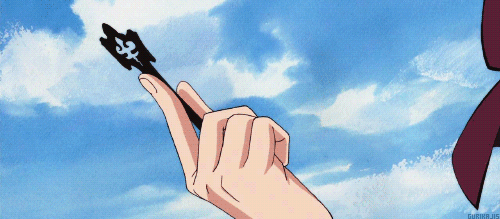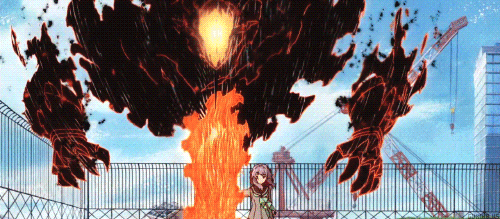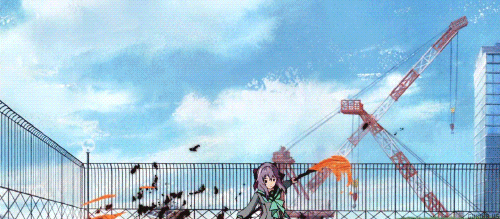 She is so funny and amazing and annoying and badass all at the same time! I really enjoyed watching her bossing everyone around (cause you know? She's the leader and everything) and using her wonderful scythe (I love it when characters use scythes *o* and giant hammers like Diane in The Seven Deadly Sins and Suzuno/Crestia in Hataraku Maou-sama! ) So, en bref, watching those two characters evolve was so dang nice.
What I also loved about this show was that the main focus was the action, because you have shows like that which are depicted as "full of action" but then you blink and whoop! Here you are on a ship. Whereas in this one, yes, potential ships are hinted but it's nothing serious (at mean up until season 1) and you can focus at your leisure on the action and storyline while devouring popcorn.
I also wanted to talk about another character but I think that if I do, I'll spoil you, so I rather not. Overall, it was so freaking epic and I cannot wait for October to come with its 12 new episodes because, just when it's starting to become more serious and epic, it's already the end of the first season. Such things shouldn't be permitted, I'm telling you!
Rating: 
---
Why I Listen To It
So, the soundtrack album is going to be released on the 20 July so I cannot link anything like full songs or whatsoever, but the composer is the genius Hiroyuki Sawano. This guy is rapidly becoming one of the favourite composers and even if I cannot really make you listen to anything besides the opening, I already have links of some of this guy's masterpieces, which can be found on this new page I made last time, Anime Music I Love. Here you'll find some soundcloud music which I find epic and inspirational. So go check it out!
So that is it for today's review! I'm kind of (very) late on my reading schedule so I'll try to wrap everything up until Friday so that I can review back at my leisure here.
Have a good day!