Magnus Chase has always been a troubled kid. Since his mother's mysterious death, he's lived alone on the streets of Boston, surviving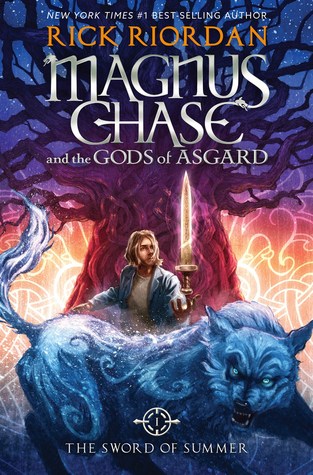 by his wits, keeping one step ahead of the police and the truant officers.
One day, he's tracked down by a man he's never met—a man his mother claimed was dangerous. The man tells him an impossible secret: Magnus is the son of a Norse god.
The Viking myths are true. The gods of Asgard are preparing for war. Trolls, giants and worse monsters are stirring for doomsday. To prevent Ragnarok, Magnus must search the Nine Worlds for a weapon that has been lost for thousands of years.
When an attack by fire giants forces him to choose between his own safety and the lives of hundreds of innocents, Magnus makes a fatal decision.
Sometimes, the only way to start a new life is to die . . .
sidenote: you don't have to read any of Riordan's previous works to enjoy this book. But I'll always recommend you to do so. It may help 😉
amazon | book depository | wordery
---
This book was one of my most anticipated releases of this year, right behind Queen of Shadows (review here!) And let's just say that it has not let me down. Oh heck no.
I am in love with Riordan's new world full of myths and gods. I don't know if I have ever talked about how much I love his writing, but here I say it: I love his writing. And his books. And everything that comes out of his pen. Or rather, his hands as he types on his computer. Riordan is a god. And if you still haven't read anything by him… WHAT ARE YOU STILL DOING HERE???
His new book takes place around the Norse myths. Now, I do not know much about it, because I am more into Greek and Egyptian stuff, but I know enough to know that he twisted the myths again magnificently. The world building, as usual, was amazing. Typical Rick Riordan. The way he weaves mythological creatures and gods in the modern era makes you want to sit, sip a cup of tea while eating his book up. That's what I did actually (minus the tea sipping). For once, there are diverse characters present in this book, which I really love. It's true that today most characters are white and blond or with beautiful curly auburn hair in books and, I am not complaining about that, but it was nice to see a Muslim girl, as well as someone who is deaf, being the heroes in a book. Okay, there may be more, but I do not know about them, so please don't hit me! The thing is, it was nice to see characters of different ethnicities and with deficiencies in his book.
The plot was fantastic, as always. It was very well developed and made me hungry for more.  I know a lot of people complaining that this book is a lot like the Percy Jackson books, and yes, I do now see the similarities, but nevertheless I really enjoyed this book. Like, a lot actually. Maybe too much. And maybe Magnus does look (I mean, personality-wise) a lot like Percy and is as sarcastic as him, but that's actually what I like about Riordan: how he twists humour, suspense and action all together without even failing.
Magnus was a very interesting character. Let's get something clear; he is not a warrior. Well, not per se. I mean, not like Percy and Annabeth, but he more like the kind of supportive friend who'll want to have in a war-like situation. Ugh, I am feeling like I do not make much sense. Okay, let's try to write this again. His father is not some well-known big badass like Thor or Loki, but rather a really nice guy.
"Frey was the god of spring and summer! read the caption. He was the god of wealth, abundance, and fertility. His twin sister, Freya, the goddess of love, was very pretty! She had cats!"
Maybe this was not the best quote I should have used to illustrate this, but… It's so funny XD He is the son of a god we do not hear much about. And that's a good change. I mean, we are used to read children of super badasses, and here we have… well… Magnus. You have to admit that there are much more possibilities from there… Right? Also, he is not a born warrior; he learns his way through.
Samirah was a very amazing character to read about. She is muslim, wears a hijab, and is a total kickass. She is one of the strongest characters in this book and I really admire her. Hearth was so freaking nice ohmigod! He is an elf, and also happens to be deaf, but I love his "voice" in the book. He is rapidly becoming one of my favourite characters of all time! Blitz, the fashion victim, was also a wonderful character and I had such a wonderful time in their company!
Have I mention that Annabeth is in there? Yes? No? She is in there, people. And with that ending, I am so, so excited for the sequel! I really need it, like… Now.
So that is it for today's review? What about you? Have you read this book? Or do you plan to? Tell me in the comments below! I'd love to hear it all!