Here is my story with Cinder. One year ago, I picked up the book, read the first 2 chapters, then put it back. Now I can say that it was one of the most stupid things I've ever done. Without further delay, let's get on with the review.
Humans and androids crowd the raucous streets of New Beijing. A deadly plague ravages the population. From space, a ruthless lunar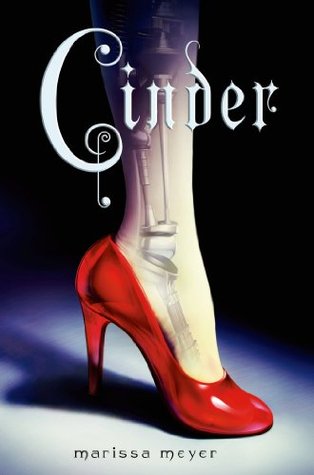 people watch, waiting to make their move. No one knows that Earth's fate hinges on one girl.
Cinder, a gifted mechanic, is a cyborg. She's a second-class citizen with a mysterious past, reviled by her stepmother and blamed for her stepsister's illness. But when her life becomes intertwined with the handsome Prince Kai's, she suddenly finds herself at the center of an intergalactic struggle, and a forbidden attraction. Caught between duty and freedom, loyalty and betrayal, she must uncover secrets about her past in order to protect her world's future.
amazon | book depository | wordery
---
"Cinder" completely blew me away, and I can agree that it well deserves all the hype surrounding it. It is one of the most refreshing read I've had in a long time, and it was fantastic. The plot was unique – a cool cyborg representing Cinderella? Hell yeah! -, the characters very well written – oh, god, I love Iko! – and the writing vivid and engrossing. The twists and turns were mind blowing, and while I did see some of them coming, they were still amazing to read about.
I really admired Cinder for putting up with her horrible step mother and snobby sister. I personally would have not been able to cope with them, and I would have escaped for a while! I really loved her courage and how she thought about Peony (aww *crying emoji* ) when her "family" thought only about her being a freak. Because, gosh, she wasn't. She was incredibly strong and natural and relatable, with her own internal struggles. I laughed with her, cried with her, felt bad for her at times, but the fact that she never completely loses hope is darn admirable.
Kai was such a sweetheart! He was so adorable and admirable too, if you consider the fact that such a young man has so many responsibilities on his shoulders. Hats off, boy! While I found him completely sweet there are some stuff about him that I couldn't agree with; but that's by the end, so just forget what you just read 😉 But I really enjoyed reading about him thinking for the good of his country and doing the best he can for his citizens. That is impressive.
Now, almighty Queen Levana. While I don't hate her guts (not now anyway), I do think that she is an interesting character. Evil, manipulative, cunning, but interesting. I feel that I am going to enjoy reading about her in the next books.
On the overall, yes, I fell in love with the Lunar Chronicles, and I can't wait to devour the other books in the series! But, for sure, Marissa Meyer has got a new fan!