-This featured image was less of a failure… right?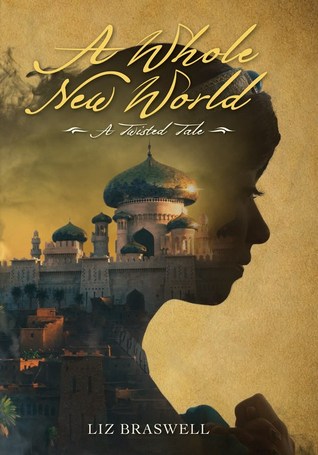 Welcome to a new YA series that reimagines classic Disney stories in surprising new ways. Each book asks the question: What if one key moment from a familiar Disney film was changed? This dark and daring version of Aladdin twists the original story with the question: What if Jafar was the first one to summon the Genie?
When Jafar steals the Genie's lamp, he uses his first two wishes to become sultan and the most powerful sorcerer in the world. Agrabah lives in fear, waiting for his third and final wish.To stop the power-mad ruler, Aladdin and the deposed Princess Jasmine must unite the people of Agrabah in rebellion. But soon their fight for freedom threatens to tear the kingdom apart in a costly civil war.
What happens next? A Street Rat becomes a leader. A princess becomes a revolutionary. And readers will never look at the story of Aladdin in the same way again.
amazon | book depository | wordery
---
Thank you netgalley for giving me a copy in exchange of a honest review!
I don't really know how to review this book. Not that it was bad; don't get me wrong. It was a very pleasant read, but personally, it was nothing more than that.
Aladdin is my favourite Disney movie. I could watch it for days without boring myself out. So when I saw this book, which is a retelling of my favourite Disney movie… Well, I couldn't resist. And while I was expecting a darker story, this wasn't really what I was hoping for.
The story starts off the same as in the movie (albeit a minor flashback) – and it actually made me want to re-watch it. Everything is mostly the same; everything, that is, until the "twist" – the moment where everything changes… and not for the better. The twist in itself could have been better written, I mean, it could have been more… spectacular. Not that it wasn't. It just happened… too quickly. Also, Aladdin is supposed to have way more common sense than that. Seriously. Anyway, let's just go on with this review.
So Aladdin doesn't get the lamp. Jafar does. And hell, Jafar was so well-written! Yes, he is a villain. Yes, he is evil. But you could also see how… mentally unstable he is. He doesn't only want to rule the world (well, typically what every villain wants) but he also wants to be loved. So yea, he was evil but also a bit pitiful. That doesn't excuse the fact that he was an amazing and wonderful annoying d*ck whom I enjoyed reading about.
Aladdin and Jasmine were… Well, I think they were okay. I think Jasmine does get more spotlight this time: she is not only a caged princess who doesn't know anything about her town (well, I n the beginning… yes. A bit, I admit it.) but she is more than that; a leader, a warrior. And it was nice to see this change. Morgiana was also amazing! She was a nice kickass character that I liked a lot.
I do understand why the story is darker than the original, but seriously? I think that there are some unnecessary deaths. And even if these deaths contributed to the darkening of the plot, well, they could have been more… creative? I mean, don't just push someone to his death. That's not very classy. See what I mean?
On the other side, the writing was very descriptive and it was surprisingly easy to feel like being in Agrabah itself. The story was also very easy to fall in and the writing very compelling. In short, even if I didn't quite enjoy the story, I might try something else by this author, just because I might be slightly in love with her writing style 😉
What about you? Do you plan to read this book? Or have you already read it? Tell me in the comments below!